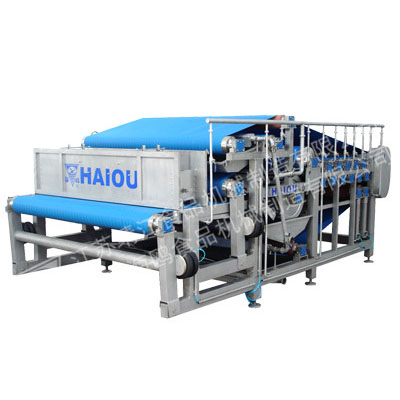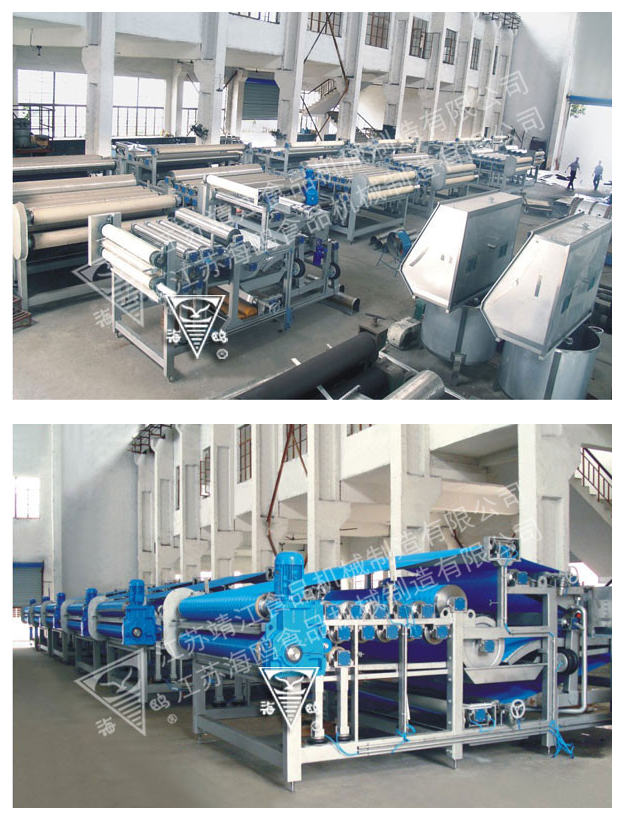 1、 Product features
DYJ series belt filter press is a new type of solid-liquid separation equipment, which is mainly used in the fields of fruit and vegetable juice extraction, Chinese herbal medicine juice extraction, algae juice extraction, beer malt dehydration, coffee residue dehydration, fruit and vegetable residue dehydration, industrial sludge material deep dehydration, etc. It has the advantages of large production capacity, continuous production, high degree of automation, simple operation, easy cleaning, stable production, durability, etc.
2、 Product composition
DYJ belt filter press is mainly composed of host, automatic control cabinet, curved screen, cleaning water buffer tank, high-pressure cleaning pump, cleaning spray pipe of filter press, cleaning water return pump, cleaning water pipeline system, etc.
3、 Working principle
DYJ series belt filter press uses two annular mesh belts (filter press belts) to hold the solid-liquid mixture and then bypass the multi-stage press rolls with different diameters. Due to the tension of the mesh belt, the external filter press belt around the press roll exerts pressure on the solid-liquid mixture sandwiched between the two belts, so that the liquid body can be discharged through the filter press mesh belt to achieve the effect of solid-liquid separation. It is mainly composed of homogenizing area, wedge area and pressing area, of which the pressing area is the core functional area of the machine.
During operation, the solid liquid mixture that has been crushed to be pressed is continuously and evenly sent from the feeding box between the lower filter belt and the upper filter belt, and is clamped by the two filter belts to move forward. In the wedge-shaped area of the lower bend, a large amount of liquid is slowly pressed out to form a filter cake that can be pressed. After entering the press area, due to the tension of the filter belt and the effect of the pressure roller with L-shaped strip, the liquid is quickly pressed out and flows to the collection tank. Later, as the diameter of the press roll decreases, the surface pressure and shear force on the filter cake between the filter belts increase, so that the material can be fully squeezed. Filter residue after dehydration is scraped off and discharged by wear-resistant plastic scraper. At the same time, the high-pressure cleaning spray device continuously cleans the filter press belt to ensure the water permeability of the filter press belt, so that the squeezing effect is good.